White-paper "America's Transportation Infrastructure — A Funding Crisis"
U.S. transportation networks must accommodate a growing economy. American motorists drove 3,225 trillion miles in 2018, an increase of 12.2 billion miles over the previous year. Record-setting vehicle-miles traveled reflects a robust economy, not to mention some 5 million construction jobs supported through investments in transportation infrastructure with an average salary of $40,000 – $80,000.
Roads and bridges are the lifeblood of the American economy. In 2015, the U.S. transportation network moved on average 49.3 million tons of freight per day. Currently valued at more than $52.5 billion, the Bureau of Transportation Statistics expects the value of freight to increase from $1,044 per ton in 2012 to an expected $1,461 per ton in 2045.
Abstract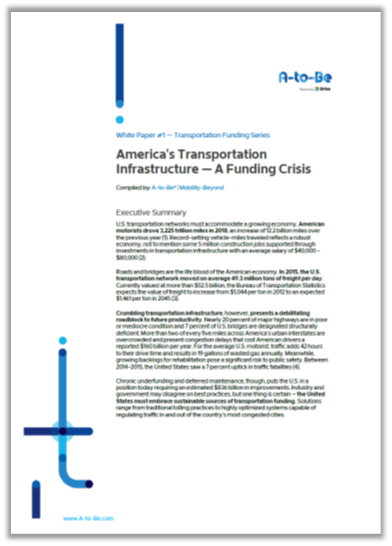 Crumbling transportation infrastructure, however, presents a debilitating roadblock to future productivity. Nearly 20 percent of major highways are in poor or mediocre condition and 7 percent of U.S. bridges are designated structurally deficient. More than two of every five miles across America's urban interstates are overcrowded and present congestion delays that cost American drivers a reported $160 billion per year. For the average U.S. motorist, traffic adds 42 hours to their drive time and results in 19 gallons of wasted gas annually. Meanwhile, growing backlogs for rehabilitation pose a significant risk to public safety. Between 2014-2015, the United States saw a 7 percent uptick in traffic fatalities.
Chronic underfunding and deferred maintenance, though, puts the U.S. in a position today requiring an estimated $836 billion in improvements. Industry and government may disagree on best practices, but one thing is certain – the United States must embrace sustainable sources of transportation funding. Solutions range from traditional tolling practices to highly optimized systems capable of regulating traffic in and out of the country's most congested cities.