White-Paper "Roadmap for optimal distance-based user fee systems in the United States"
For close to a century, America's road network has been paid for through primarily state and federal fuel taxes. These taxes have not kept pace with inflation and, when measured in real dollars per mile of travel, are worth 40 percent less than they were 25 years ago. Meanwhile, fuel economy standards are at a record high as more fuel-efficient cars and electric vehicles permeate the nation's roads.
To compensate diminishing transportation funds, a growing number of states have looked to alternative revenue systems based on vehicle miles traveled. Also known as a mileage-based user feed or road usage charge, the Federal Highway Administration (FHWA) projects that vehicle miles traveled will grow at an average rate of 1 percent annually over 20 years as a result of rising incomes and a growing population.
Oregon, California, and Washington were among the first to administer mileage-based user fee pilot programs in the United States. They have created a considerable amount of national momentum, encouraging additional states to look beyond traditional sources of transportation funding. Oregon currently operates a fully functional RUC system for voluntary participants and California and Washington concluded testing in 2017 and 2019, respectively. In this White Paper, A-to-Be identifies consistencies across each pilot program that support the foundation of intelligent transportation systems in the United States.
Abstract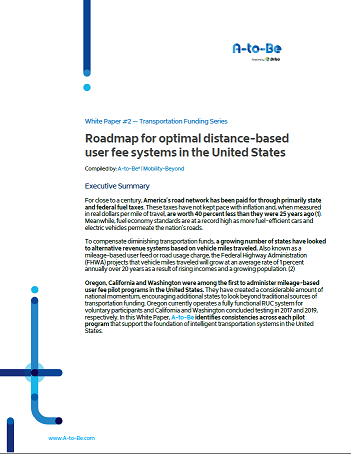 The introduction of intelligent transportation systems to American arteries constitutes the most significant shock to U.S. roads in nearly a century, but chronic underfunding and deferred maintenance puts the United States in a position today that requires swift action. About 40 percent of transportation revenues come from fuel excise taxes. According to data from the Congressional Budget Office, receipts from U.S. motor gasoline consumption are projected to decrease by an average 0.3 percent per year from 2019 to 2030 as the use of alternative energies advances.
An increase in gas tax rates offers immediate relief to state and federal transportation funds but is considered throughout the industry to be unsustainable over time. According to the Transportation Research Board, a 50 percent increase in average mile per gallon would lead to a 28 percent decrease in gas tax revenues, the same increased fuel economy would benefit VMT revenues by 4.4 percent.
There is still much to learn about mileage-based transportation systems, but the success of pilot programs in Oregon, California and Washington and the prospect of more to come set the United States on a constructive path forward. We look forward to the success of future VMT programs